Angelina Jolie in Ralph Lauren Black Label
The "Mr. and Mrs. Smith" did it once again. This time, they did it together. The ever famous co-star lovers Angelina Jolie and Brad Pitt both scored Oscar nominations for the movie
The Curious Case of Benjamin Button
. Aren't they lucky enough to both deserve a piece of nomination from a movie they both work hard?
But what is more important to note for
FC
(
Fashionable Clothes
) was the Paris premiere of the mentioned movie where both of them took the red carpet ride side by side matching in grey tones. Do they love grays much now? Anyway, Brad really looks nice in three-piece suit and tie. While Angelina obviously chose another pantsuit. This one in grey with a Akris trench coat on top and trousers from Ralph Lauren Black Label. Hmmmm.. I must say, nice choice, right eh? With an added effect of her hair left loose and the usual makeup, her appearance was just as wonderful as ever.
Though spectators were expecting colors on the red carpet, they must admit that they like their grey look. And someone thought Angelina's just being practical during the event. Here are some of the commenters have to say, "I think she gets cold at these events this time of year, so she is being practical. There have been times in the past that she wore exquisite coats on red carpets. Plus I suspect they do the carpet and go "home", so it's not worth too much fuss. They look very nice and coordinated." -
dhc at pittwatch.com
. "It is really cold over here so she would be crazy to wear anything else but a coat =)" -
sonja at pittwatch.com
Photo credits: instyle.com
,
celebrity-gossip.net
Thought credits: instyle.com, celebrity-gossip.net, pittwatch.com
Other images during the event.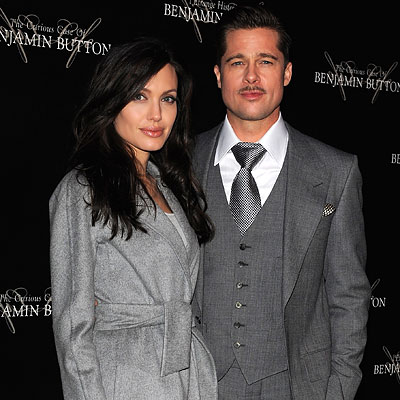 This entry was posted on Wednesday, October 21, 2009 , 4:08 AM and is filed under Celebrity Women,Ralph Lauren. You can follow any responses to this entry through the RSS 2.0 feed. You can skip to the end and leave a response.