Megan Fox: So Beautiful in Ralph Lauren Statement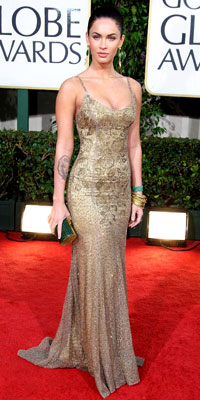 Are you familiar with the movie Transformers? Well, who would not know Transformers, it is one of the most watched movie of the year (2009). If you're a fan of the movie then you might be a fan of Megan Fox as well, am I right?
Megan Fox just made a great job in her acting on the movie making her one of the most sought after sexiest leading lady in Hollywood today. She must not be a girl with a good sense of acting alone but additionally a brilliant beauty that catches every gentleman's heart.
Despite the obviously seen star with a beauty in her, she still have some self-doubts. Here is what Megan Fox has to say during the Golden Globe Awards: "I am pretty sure I am a doppelganger for Alan Alda. I'm a transvestite. I'm a man. I'm so painfully insecure. I'm on the verge of vomiting now. I am so horrified that I am here, and embarrassed. I'm scared." Surprising to know it, eh?
In spite of her anxieties during the event, Megan Fox made a stunning statement in
Ralph Lauren
in her first Globes appearance. Wow! The curve-hugging dress from the spring 2009 collection flaunted the actress's flawless figure. Not only that! She complimented the look with Amrapali jewelry and A Ralph Lauren green crocodile clutch.
Isn't she looks more beautiful with Ralph Lauren clothing and accessories? Well, take a closer look at the picture attached and see it for yourselves.
Photo credits to instyle.com

This entry was posted on Tuesday, October 20, 2009 , 4:45 AM and is filed under Celebrity Women,Ralph Lauren. You can follow any responses to this entry through the RSS 2.0 feed. You can skip to the end and leave a response.